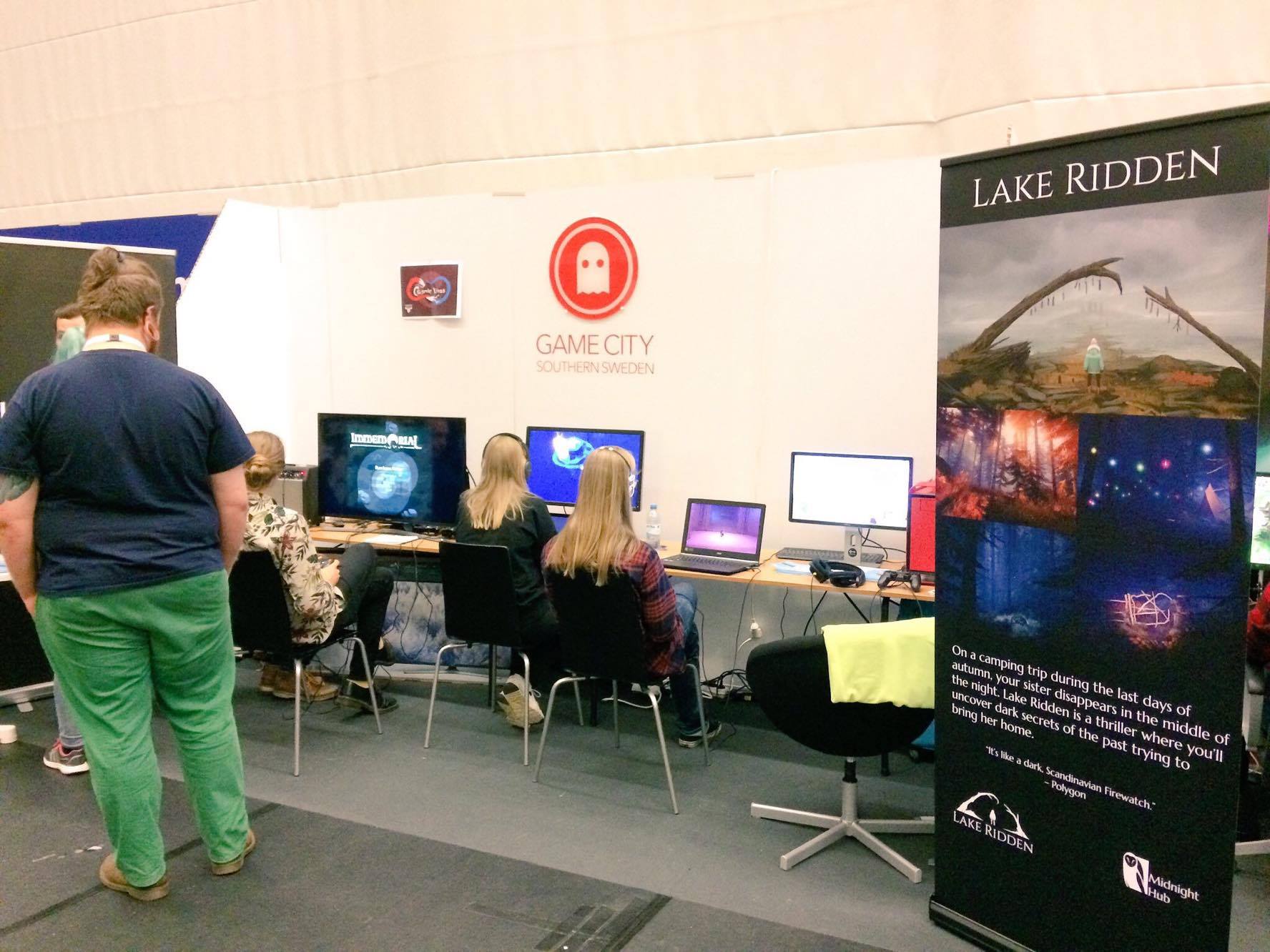 Hi all, welcome back to our developer blog! Last week we packed our bags and headed to Sweden Game Conference to display the Lake Ridden demo for three days. Huge thanks to everybody who stopped by to play Lake Ridden, we got a lot of nice feedback and met many new friends! And big thanks to Mira who snapped the photo above! Speaking of conferences, we've gathered the press response to the alpha level we showed at EGX last month! The Lake Ridden team has been thrilled to see how much both the press and regular gamers liked it!
"I've been playing both the press level and the demo, and I gotta say, it's my highlight of the EGX so far!"
– Pretty Good Gaming
"It features stunning graphics and drew quite the crowd on the show floor."
–VGC Chartz
"…Lake Ridden seems to be attracting quite a bit of attention from the gaming press…I got the feeling that if you liked The Vanishing of Ethan Carter, you'll enjoy this title."
– LaterLevels
"…Filled with clever puzzles, riddles and fantasy hooks strong enough to make you disappointed to see the demo ended. The most exciting thing about Lake Ridden is that it really reminded me of Everybody's Gone to the Rapture…"
– SquareXO
"…Reminds me of The Vanishing of Ethan Carter, atmospheric, really interesting, looks really good!"
– More Than Pixels Podcast [42:35]
"Firstly it looked amazing…it's one to keep on your radar."
– Games Bulletin
"One of the games on top of my list…"
– WonkySpanner Podcast [15:50]
"…It gave me chance to explore the garden setting I was placed in, and it looked great. The game also built up a great atmosphere for the area you were playing in."
– Tattastic Gamer
"… If you're a fan of puzzlers then you will absolutely dig this game."
– Small Screen
"It's soaked in atmosphere, has a genuine hook in the story department, and puzzles that will need more than a quick shot of ginseng to best."
– Cultured Vultures
"Lake Ridden looks astonishing! I will have to write that one down to cover later on my channel…"
– Top 7 Best Looking Indie Game Trailers – October 2017 [02:36]
"Lake Ridden already shows an excellent technical level…The puzzles already work and the concept convinced us." – Game Source (Italian)
When you spend years working closely on the same project day in and day out, you become kinda blind to your own creation, so getting the game into the hands of real people and then hearing they enjoy it feels totally amazing! We're working really hard to finish the game right now. To get a notification when the game releases, make sure to wishlist Lake Ridden on Steam.
Cheers,
Sara & The Lake Ridden Team