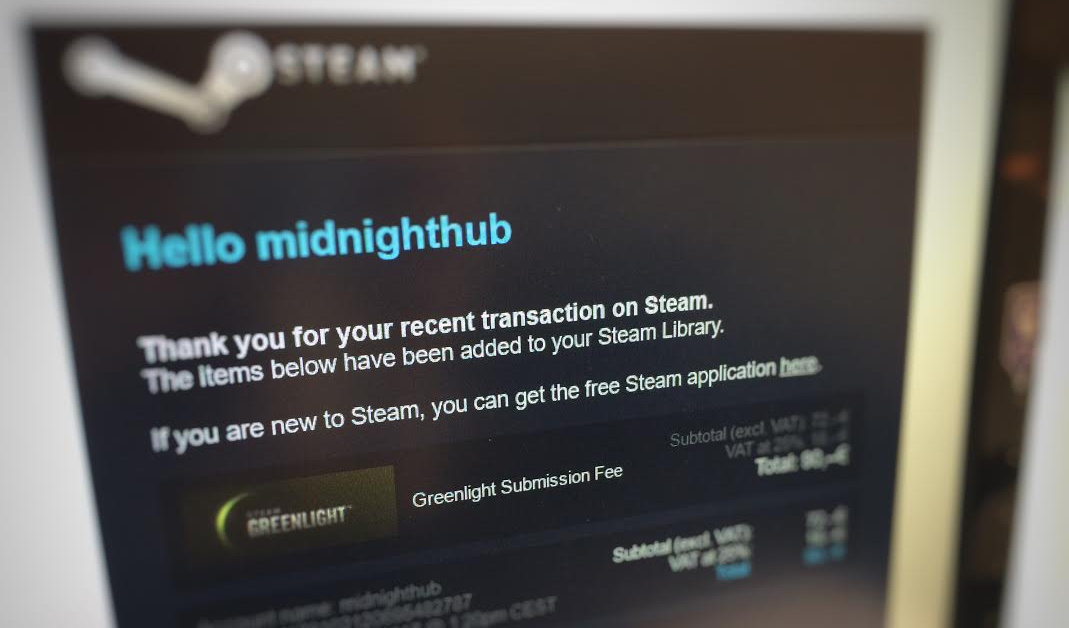 Hi friends, what's up? Here at the Midnight Hub office, we're hard at work with the latest version of Lake Ridden. The game is coming along fine. It's hard to believe we've been working on this project for almost 1,5 years by now. We've really tightened up the focus of the game lately, what we want it to be. But more on that in a sec.
At Nordic Game Conference we met with a lot of talented devs urging us to go for Steam Greenlight as soon as possible. They mentioned the Greenlight process as a really good thing to do in order to increase your community and awareness on Steam. For a small indie team such as Midnight Hub community building and connecting with players and fans is one of the single most important things we can do, in order to stay relevant and spread the game as far as possible. Showcasing your game to as many of your potential players as possible is super valuable, to get feedback and build awareness. So we decided to get ready for submitting our game to the Steam Greenlight community next week.
For those of you who might need a little clarification; Lake Ridden will be available as a computer game (and hopefully a video game as well!). The leading platform for playing, selling and buying digital computer games is called Steam, and made by Valve. There are tons and tons of big and small game developers out there, who all want their game to be available on Steam for the 200 million people using the platform. Steam is like the App Store, but for video games. So, as a fairly unknown small studio, you have to go through a process named Steam Greenlight, to see if the demand is high enough for your game to get released on the Steam platform. When you put your concept on Greenlight anyone on Steam can vote for it, comment, give feedback and you kinda pitch your game for an audience of real people. If enough people like what they see the good people at Valve may decide, together with algorithms, that your game can be released to the platform. You get the green light to release on Steam!
So we started preparing for displaying our game on Greenlight as soon as we could when NGC was done. Originally we were going to wait until after the summer when a new process will be in place. But we didn't want to miss out on the community buildning now when we knew how much visibility Greenlight actually could give us! And the whole industry has known since earlier this spring that Greenlight "will be replaced by another process called Steam Direct, as some point later in 2017". But nobody has known even remotely when. So we decided to take our chances and go for it. What we didn't know was that Valve decided to pull the plug and shut down Greenlight on Wednesday morning this week, approximately 15 hours after we paid the fee to be eligible to put or game up for voting.
This is not a deal breaker for us, it's merely a bump in the road. It just means that we have to wait for the new process of Steam Direct to be set up. It was just a bit unfortunate and bad timing that we had already spent some time on a Greenlight trailer and some marketing materials, but hey, it's not the end of the world! We're excited to see how Steam Direct's gonna work. Valve has stated on their blog that the new system will be in place next week and that it will cost you 100€. I guess we'll just have to wait and see what happens. ¯\_(ツ)_/¯
As I mentioned in an earlier blog post, Lake Ridden is much more of a creepy thriller puzzle, not a horror game, and I think we have removed all the pure horror elements from it by now. After exhibiting at Nordic Game we took a long, hard look at the concept, we modified some of the action-oriented moments in favor for more problem-solving and storytelling. I think this distillation of the game concept is one of the best decisions we have made so far, and it will hopefully reflect when we release the final game next year. It's always hard to try and do a bunch of things well, it's usually best to really dig down and find the core of an experience and then work with that. The core of Lake Ridden is narrative, creepiness, puzzles and some adventure. It's not a horror game. It's not an action game.
Until next time, take care guys, and stay tuned by following our Twitter and Facebook where we post all the latest stuff regarding Lake Ridden! And as always, huge thanks for all your loving support!
Cheers,
Sara & The Team