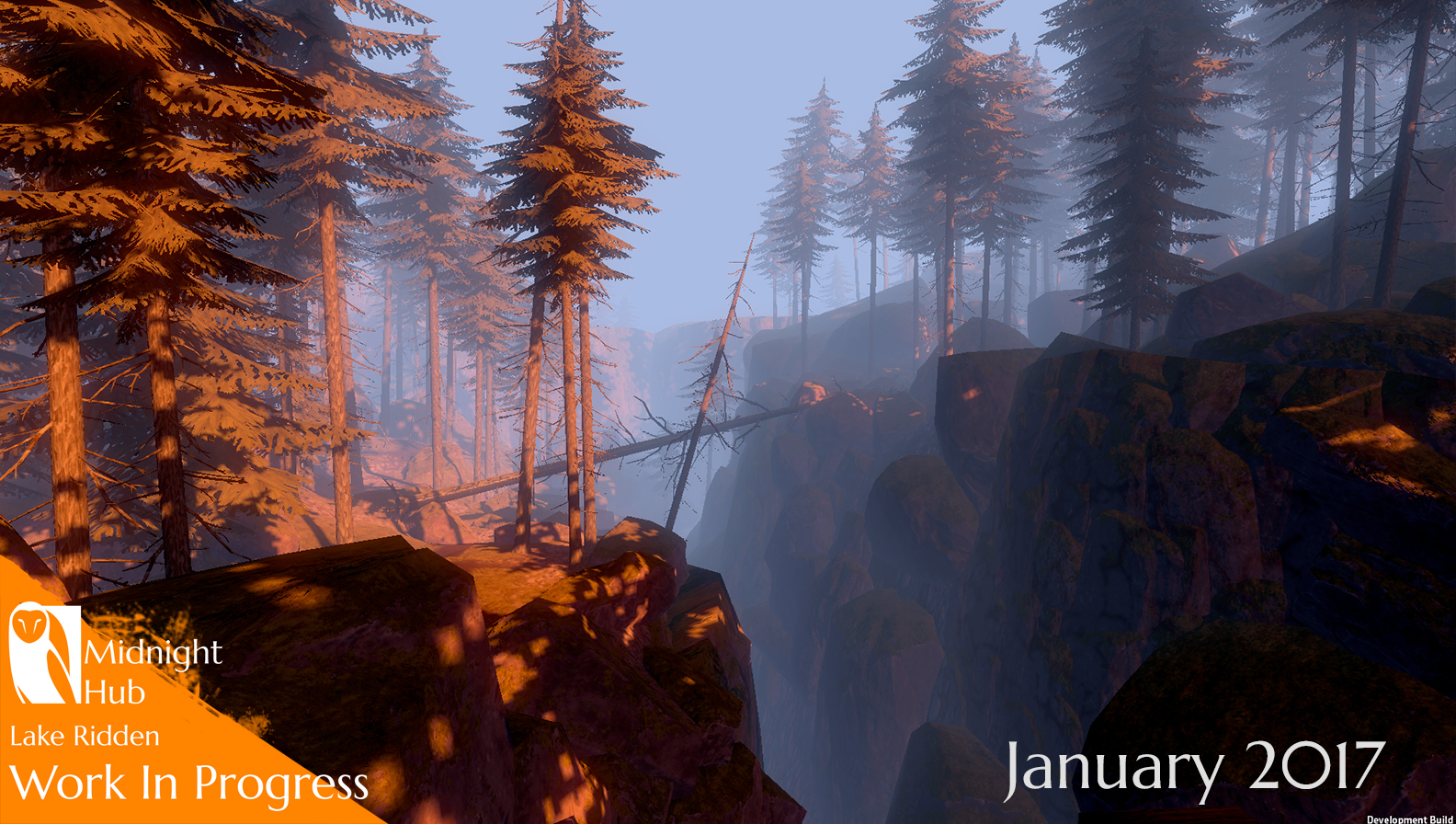 Hey there! New year, new possibilities! We're back to work on Lake Ridden after a much needed break during the holidays! It's fair to say that 2016 was a very intense year for everyone at the studio. We went trough the whole thing of assembling a core team, filing out all the paperwork to start a company, setting up all the tech, deciding on a exciting game idea for Midnight Hub's first game, surviving pre-production of Lake Ridden, announcing the game, attracting additional talented team members and freelancers, securing multiple founding partners, moving the office (twice!) and also had the time to keep you guys updated about all the stuff that was going on. And that's not even including all the work we spent doing actual development on the game itself!
This coming year we really want to focus on getting the game done and release it into the wild for you guys to play! Estimated release is sometimes during the autumn in 2017. We'll be attending several game conferences, starting with Game Developers Conference in San Francisco in March, and Nordic Game Conference in Malmö in May. We'll have to pass Steam's very own audition, Steam Greenlight, to be able to publish Lake Ridden on Steam, and if all goes according to plan we have some very, very nice treats coming up for you later this year…
I do feel like it's very important to state that even if we show you guys plenty of the work in progress we're not showing you everything about the game. We want you to explore all the secrets and mysteries of Lake Ridden for yourself when the game finally releases. There are things we would never spoil for you. It's a mystery-horror game after all, spoiling it all would kind of ruin the fun, don't you think ; )
We kicked of week with two retrospects to reflect on what we had learned during 2016, to see where we could improve and what people felt proud of. Then everybody filled in our anonymous employee survey and we had a discussion about what's it like to work at Midnight Hub. Overall the team answered that they feel like their work is really important, they feel like the other members trust them and that they feel like a very valuable part of the team! Areas where we can improve are: get better as sharing a clear vision for the studio, getting people more comfortable at sharing their mistakes so we can all learn and reduce the (moderate) stress levels. We plan on doing this survey every six months as an extra tool to help develop both the studio and the team. It's an addition to the performance reviews and one-one ones we're already conducting.
Subscribe to the Midnight Hub Newsletter, follow Facebook or find us on Twitter where we post new screenshots and behind the scenes stuff! Also, check out Johan's Twitter if you're curious. He's sharing some screenshot of his own during development!
Cheers,
Sara & The Team