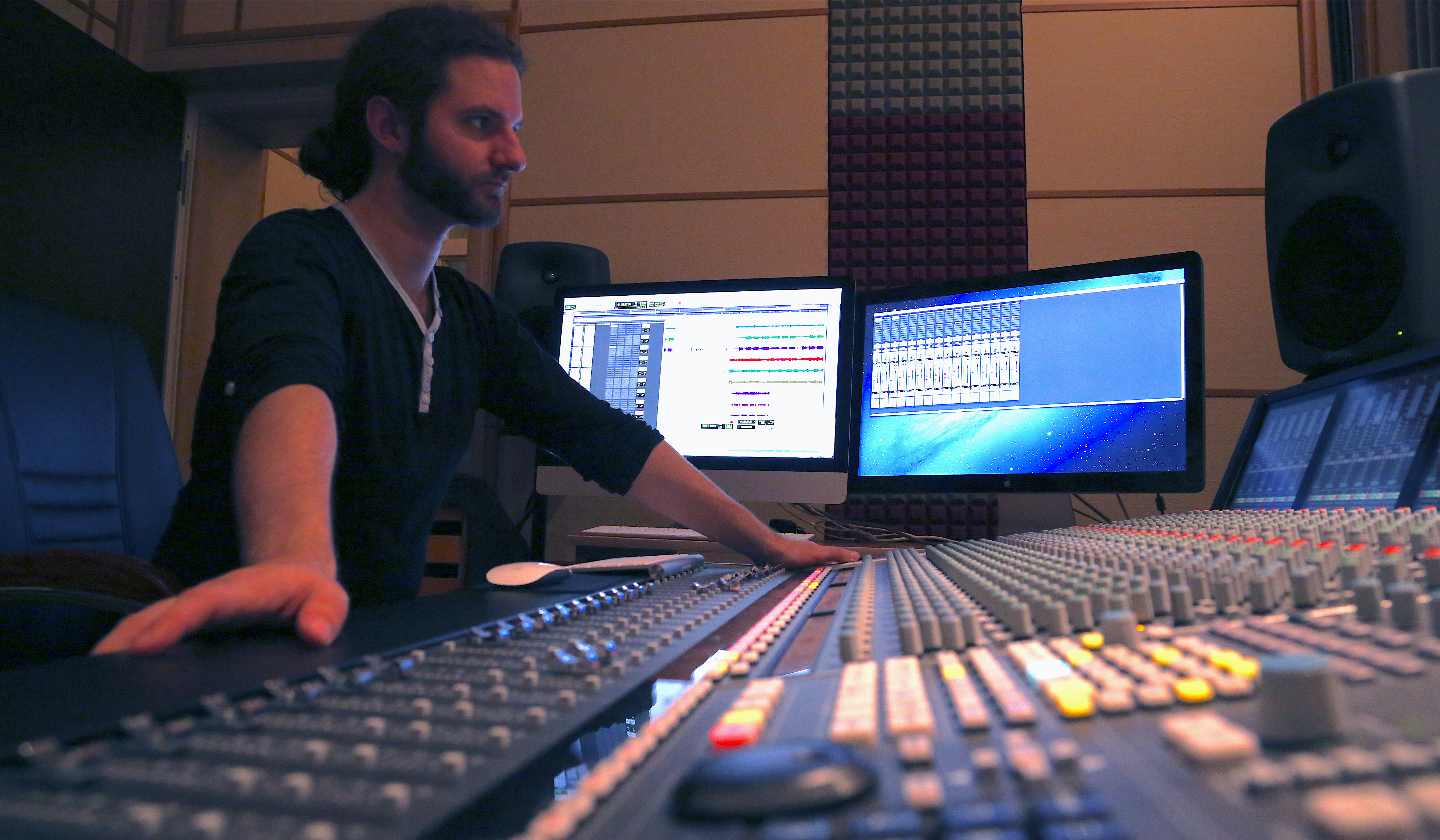 Hey guys! Last week we finally got the very first iteration of the music and sound effects into Lake Ridden! It made such a huge difference in how we experience the game when we're testing it now! Being able to hear the dripping rain in the forest, the soft footsteps on the ground and the lingering music in the background adds such a depth to the art and game design. Here's a small sample of some work in progress for you to listen (sorry about the image quality, Soundcloud re-sizes the cover image):
In this post I'll write a few words about the sound and music for the game, as well as introduce you to our composer Patrik! We knew really early on that for Lake Ridden we wanted to take a somewhat different approach to sound and music in games. More often than not games are made almost complete before you add any type of serious sound effort into to it. Many composers and sound effect experts are added very late into the production, which as it's pros and cons. For Lake Ridden however, we wanted to involve a talented composer from early on. Our vision from the start has been to iterate on the sound and music the same way we iterate on the design, art and code. We want the atmosphere and feel of the game to grow organically together with the music, not the music to be this layer sprinkled on top the game when it's almost completed.
After talking to a whole bunch of very talented composers we decided to team up with Patrik Jarlestam from Ghost Note Music. Patrik is a very passionate and experienced freelance composer who has done both video game music, classic composition, arty music and sound effects for various projects. He's also located in he city of Malmö which makes the communication so much easier. He joins us at the office a few times a week to discuss ideas presents the newest iteration of the music for the team.
Patrik, tell us a bit about yourself, who are you?
– I'm a music maker, composer and language geek! I love working with other passionate creators. Before working on Lake Ridden I completed my degrees at various music schools like the Royal College of Music in Stockholm and Gotland School of Music Composition. I like to tell stories with my music. For me music IS story telling, no matter if I compose a classical piece for an orchestra or the soundtrack for an app game.
Is there any games that has had a big impact on you?
– Final Fantasy 6 and 7 as well as Chrono Trigger and Terranigma will always have a special place in my heart. It's something about the music and the storytelling in those games that's very powerful.
What is your vision with the music and sound for Lake Ridden?
– I want to make a soundtrack that invites the player to step right into the world of the game. It's a very exciting project to be part of. It's like everything I learned during my past 12 years of writing music, making sound effects and collecting strange musical instruments from around the world finally comes together! It's such a varied job. I use both Unity, Elias, my own instruments, I record sounds outdoors, work with our voice actress and mix, edit and remix. Making the soundscape for this game lets me use everything I've learned!
How do you work when making the music for Lake Ridden?
– Usually I come aboard on game projects at the end of the production, but with Lake Ridden I've been a part of the process from very early on, even when the project only had concept art to communicate the desired look and feel for the game. This is both challenging and a great opportunity. The first step has been to have a lot of discussions with Johan, the creative director at Midnight Hub. We talk about what the vision is for the whole Lake Ridden experience. After this I've been playing around inside the game to get a feel for the game world. Usually I get a very vivid image in my head, almost hearing what the game should sound like, when I explore the silent game.
– After this I have composed three different pieces of music that the team and I have analyzed. Right now we're at a point when we have gained a pretty good understanding of the vision for Lake Ridden's sound and music. So now I work in Elias, a very dynamic engine for sound and music. Elias allows me to break down all the bits and pieces of the sounds to make them play in different orders and at different areas of the game. This creates a living, breathing atmosphere that hopefully never gets boring to listen to.
Malin Håkansson is the voice actress for the main protagonist Marie. What's it like to work with voice actors?
– Malin is just so super talented! I've worked with her previously and we have a very effective process together. After working on so many different projects we've reached that point when you know each other so well that you can dive almost directly into the details of the job. She has so much experience she needs only minimal direction, which is awesome! We're recording some test lines right now and will continue on to the dialog during the winter.
The sound and music of a game really is the fabric that ties a whole game together. We're very happy to have Patrik and Malin H on the team bringing this difficult aspect of the game to life. For more news and updates, be sure to follow our Facebook page and Twitter. We also got an IndieDB-page now, if that's your cup of tea!
Cheers,
Sara and The Team