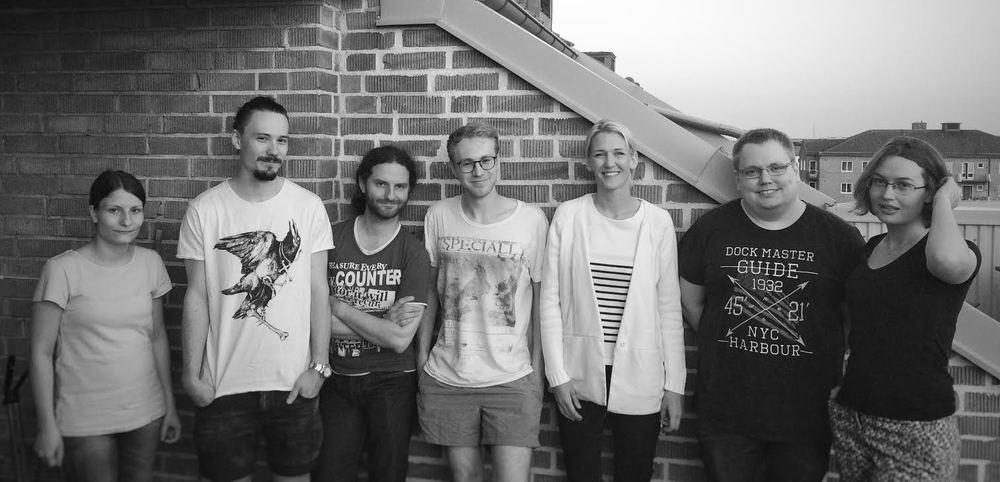 From left to right: Malin, Anton, Patrik, Erik, Malin Khaan, Johan and Sara. The whole Midnight Hub!
Awesome news everybody! Firstly: We have found the perfect voice actress and sound/music-composer for Lake Ridden! Patrik Jarlestam from Ghost Note Music will work his magic to make sure the music and sound in Lake Ridden is on point. We know that it's so, so important to get excellent audio or a horror game won't be scary at all. Patrik is an experienced composer with lots of exciting ideas for the game. He will work together with the mega talented Malin Khaan, who'll be the voice of Marie. We're super thrilled to have them on board for Lake Ridden!
Secondly: The team now has an additional coder: Malin! She's the very first crew member to get hired by Midnight Hub. She starts next week, and right now we're making sure her computer and keys are ready. Bringing a new team member into the hub is a big step for us, and we have a solid plan in place to integrate her into the team as smoothly as possible. Johan and Malin will team up to work on the code and story for Lake Ridden together. Welcome Malin!
To celebrate all of this we threw a BBQ party last week, on top of Erik's roof! It felt really nice to have the full team gathered for the first time. Speaking of team, Erik mentioned in our previous blog post that we finally found the additional artist we were looking for. His name is Anton and he'll be joining us this summer, so more on that later : )
We have now launched a Steam group for both Lake Ridden and Midnight Hub. Check them out and be part of the conversation if you hang out on Steam : ) It's still some time left before we go live on Greenlight, but never too early to connect with you guys!
Cheers,
– Sara